Role of the Board – Minority Pipeline Initiative
June 9, 2022 @ 5:00 pm

-

7:30 pm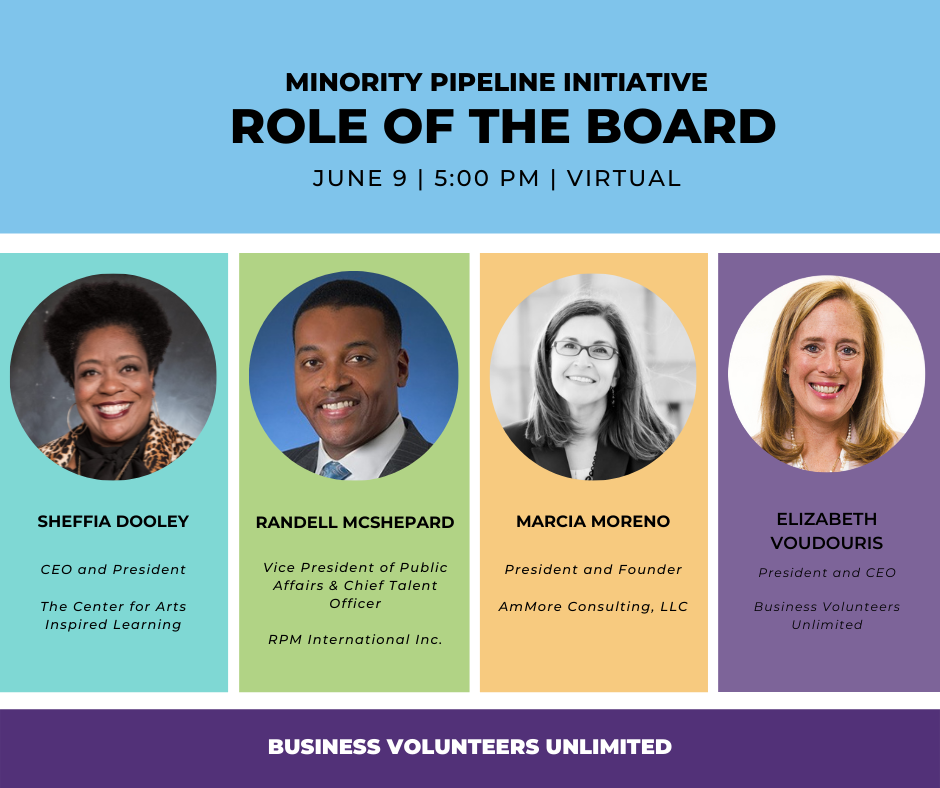 Registration is now closed. Contact Sarah Castle, SCastle@bvuvolunteers.org to get involved.
Join us for a board training session designed to recruit and inspire people from diverse communities to serve on nonprofit boards.
People with different backgrounds and life experiences enrich board discussions and decision-making processes, leading to better outcomes than those where board members share a monolithic viewpoint or world view.
This event will feature an expert panel that will share their experience, discuss the roles and responsibilities of nonprofit board members and consider challenges and opportunities facing nonprofits.
After attending this training you will have an opportunity to participate in BVU's board matching program.
Candidate Criteria
• Interest in the community
• Expertise & achievement in a select field
• Interest and readiness to serve on the board of a nonprofit organization in Northeast Ohio
• Willingness to collaborate and lead
• Vision, strategic thinking, teamwork, fundraising and personal commitment
How to get Involved:
• Attend the MPI Role of the Board or the quarterly BVU Role of the Board Training
• Enroll in BVU's Board Matching Program during the training session
Thank you to our Minority Pipeline Initiative Sponsors
No Charge Event