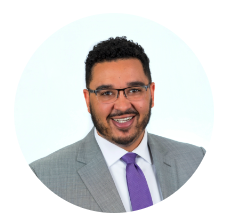 Darnell D. Davis, Jr.
Director, Leadership and Strategic Initiatives
August 17, 2022
On August 17, I celebrate National Nonprofit Day with an ask for you to find a nonprofit organization you are passionate about and get involved. This day recognizes our country's valued nonprofits and the work they do to serve local communities.  We are particularly proud of the vibrant nonprofit sector in Northeast Ohio and want to say thank you for their efforts doing great work to make our region a wonderful place to live, work, and play.
The need for nonprofit volunteers today is greater than ever. According to a comprehensive BVU survey of Northeast Ohio nonprofit leaders, 41 percent say volunteer recruitment and retention is difficult. At the same time, 93 percent of the same sample predict an increase in demand for nonprofit services. With volunteerism decreasing but demand increasing, how can you help Northeast Ohio nonprofits meet the demand for services while struggling with limited resources, particularly volunteers
Volunteerism is Vital to Nonprofits
In the Greater Cleveland Metropolitan Area, 259,093 nonprofit staff work to change lives through their organization's mission, vision, and purpose (link to cause IQ). They rely heavily on volunteers to do so. These highly skilled volunteers and professionals operate almost 15,000 nonprofits that not only change lives but are vital to the success of the economy.  
Cleveland nonprofits contribute almost $35 billion annually to the local economy and house assets of upwards of $80 billion, all in the name of changing lives through unique programs and community resources. Nonprofit staff are challenged by greater competition for limited resources while facing an increase in demand for services in the community. 
This gap in resources is where volunteers act as the lifeblood of the organization, providing operational and strategic support to ensure the people in need continue to receive the services. Nonprofits rely on volunteers while the community and economy rely on the non-profits. If more volunteers contribute to the vital nonprofits in our community, combined resources of $115 billion will grow and continue to be added to the local economy.  
More importantly, the programs and resources that nonprofits provide will be more accessible to those in need. Get activated TODAY! 
Get Involved with Local Organizations
BVU emphasizes three distinct ways you can help a local nonprofit: board service, skills-based volunteering, or traditional volunteering.
Board Service:
BVU will assess your skills and interests and match you to a nonprofit organization that suits you perfectly. Talk to your HR manager to get started with this BVU business member perk, or contact us.
Skills-Based Volunteering:
BVU connects the unique needs of nonprofits to our network of skills-based volunteers, making the perfect connections to generate the biggest impact. You can get involved by applying to become a skills-based volunteer today!
Traditional Volunteering:
BVU's FREE Volunteer Center is a platform on which any nonprofit can post a volunteer opportunity, and any member of the community can sign up. Click to browse upcoming opportunities. We also plan Team Volunteer Projects for our business members, as well as host a large community-wide event in April called the Homeless Stand Down – providing goods and services to those experiencing homelessness in our community.
Happy National Nonprofit Day, and I hope you choose one of the options above to give back to Northeast Ohio nonprofits. If you have any questions, please feel free to contact me directly at ddavis@bvuvolunteers.org.