By Elizabeth Voudouris

At BVU, we work with over 800 nonprofits each year, and from this unique vantage point, we have an intimate view of trends in the nonprofit sector.  At this critical time, nonprofit board and staff leaders need to begin planning for a new reality on the other side of the COVID-19 crisis.  In addition to business continuity and financial scenario planning, nonprofits need to consider strategic restructuring – including program, staffing, geography, governance, revenue streams, and strategic alliances.
So what's next for your nonprofit?  By your next board meeting, be ready to discuss the following: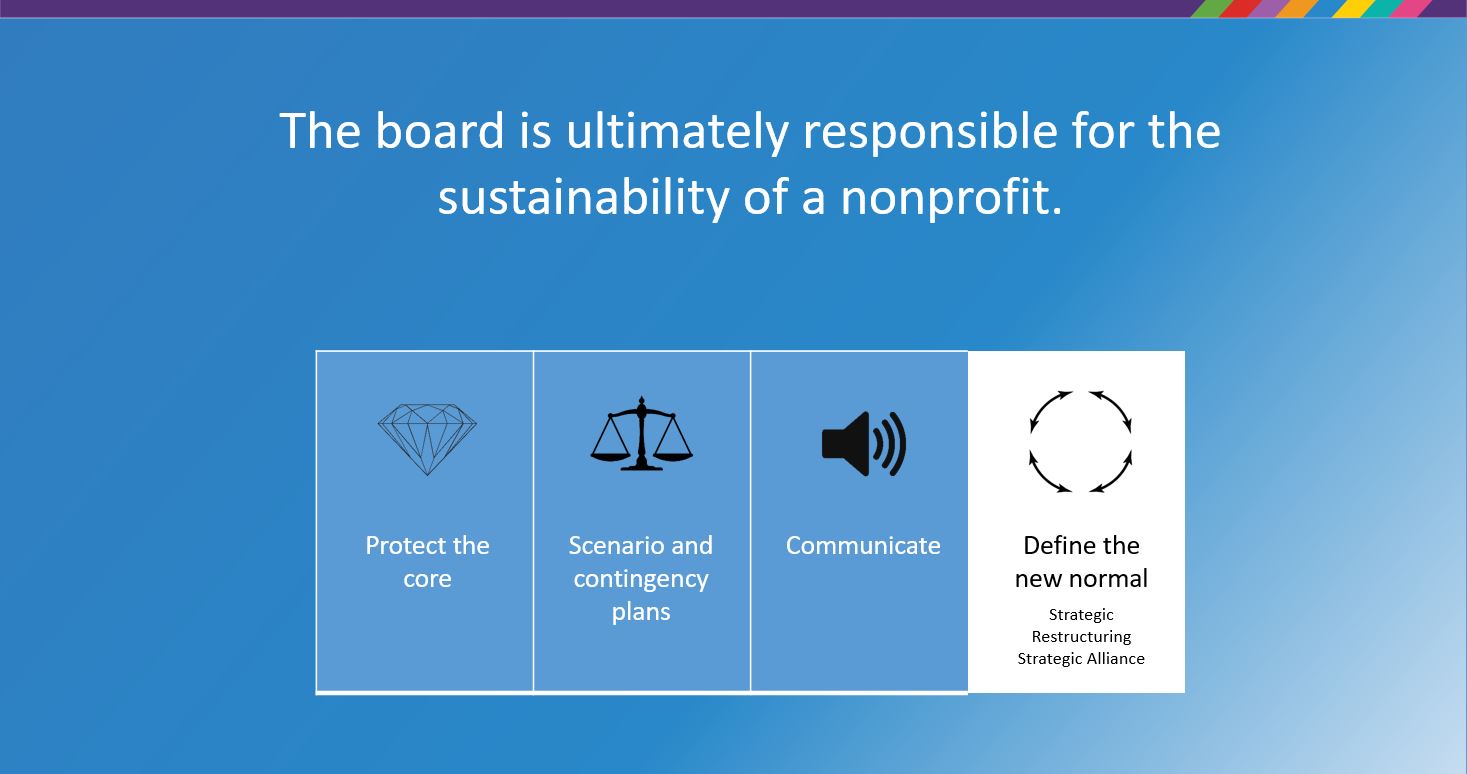 Define the core that you must protect. Given decreasing resources, what is core to your mission or programs that you must preserve?
Review the scenario planning and financial forecasts; identify what levers to pull, by when, to ensure cash flow and the sustainability of the organization (loans, endowment draw, layoffs/furloughs, etc.). Hoping for the best is not an option. What needs to happen if revenues are off by 20%? 40? 60?
Discuss what strategic restructuring might look like – across-the-board furloughs and layoffs can make a temporary difference, but in the long term, you need to retain your key staff to deliver your core programs.  Are there any programs that are less impactful? Delivered by others? Low mission alignment?  Are there programs that you simply stop delivering? Or could you partner with another nonprofit to deliver the programs?
Back-office expenses are another area to consider. Are there opportunities to consolidate or share space?  Are there functional areas such as human resources, technology, finance, or volunteer management that could be outsourced or shared with another nonprofit?
Instead of jettisoning programs or sharing space, can you identify partners for a potential strategic alliance or merger? Is there another organization that you might partner with that could result in more impactful service to your clients? Broader outreach? A feeder system to your current programs?  Provide more efficient and cost-effective back office?  Don't wait until it is too late and you are no longer a viable merger partner.
Mergers.  The "M" word. Nonprofit board, staff, volunteers, and even clients might feel threatened by perceived loss of identity, freedom to deliver programs in their unique way, and even loss of board & staff positions.  On the other hand, foundations and donors see mergers as an opportunity to reduce "duplication" of services and requests for funding, meet greater needs, and create a more efficient nonprofit sector.  Why the differing perspectives?  Board, staff, donors, and foundations all value the mission, but in an environment of increasing demand and decreasing resources, mergers (or strategic alliances) are one way to sustain that mission, albeit in a new way.
If done well, mergers can increase your nonprofit's mission impact and sustainability while preserving what is important to your board and staff.  BVU facilitates strategic alliance/merger feasibility studies to analyze the alignment of mission, program, revenue models, governance structures, organizational design, and culture between two or more potential partners.  Nonprofit mergers don't necessarily result in significant cost savings, but they should result in greater efficiency.  One recent merger project resulted in more families receiving vital services, a larger pool of donors, increased goodwill with foundations, a restructured organizational design that leverages individual talent and best practices, and a highly engaged board of directors. Other projects have resulted in the parties walking away from the merger, confident that the analysis uncovered a lack of alignment and positive future impact.
Board members can play an important role in identifying and pursuing potential strategic alliances or restructuring.  After you discuss the above items at your board meeting, assign a small task force of board members and one or two key staff to research options and bring a recommendation to the next board meeting.  Make a plan now so you are prepared. You might not need to use it, but it will be a useful exercise to position your organization to come through COVID-19 in as strong a position as possible.