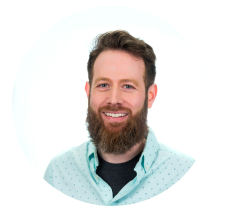 Rob Zaremsky
Director, Business & Community Engagement
September 7, 2022
"Volunteering should be transformational, not transactional."
This is a phrase that we share on a regular basis during our enhanced volunteering sessions with volunteers from BVU Business Member, Medical Mutual. Meaning, volunteering doesn't end when your shift ends, it's something that you take with you everywhere. The skills you learn, the stories you hear, the people you meet, the lives you impact, these are opportunities and moments that can change you forever.
Reconnecting in a Remote Work Environment
Members of BVU since 1994, Medical Mutual has worked together with BVU to engage their thousands of employees over the past nearly 30 years in every possible way. From team volunteer projects to board matching candidates to skills-based volunteering, Medical Mutual has done it all. With many team members now working from home and feeling less connected to their workplace and their community due to the pandemic, Medical Mutual faced a new challenge re-engaging staff in meaningful ways with each other, our community, and our partners.
Medical Mutual's SHARE Days became the perfect way to reconnect and re-engage. BVU staff worked with Medical Mutual leadership to develop a new program, the ServicePLUS model. BVU's ServicePLUS program elevates the service day's impact for our business members via a debrief session, feedback gathering, mission moment, and resources for future impact. These sessions are led by a BVU staff member to help facilitate the conversation and provide additional tools and resources for volunteers.
Medical Mutual SHARE Days
Twelve opportunities were created for Medical Mutual employees to volunteer with nonprofit organizations in the Northeast Ohio region, giving volunteers the choice of where to serve.
These organizations included:
Habitat for Humanity of Summit County's ReStore
Eliza Jennings
New Avenues to Independence, Inc.
EDWINS Leadership and Restaurant Institute
M. McGregor Home and Amasa Stone
The City Mission

Western Reserve Land Conservancy
Hospice of the Western Reserve
Lake Erie Nature & Science Center
Cleveland Animal Protective League
Akron-Canton Regional Foodbank
Greater Cleveland Food Bank
SHARE Days kick off with an overview from a representative from the nonprofit hosting volunteers that week. Volunteers are given the opportunity to ask questions and learn more about the work being done, before jumping in and assisting. At the conclusion of each activity, volunteers enjoy a nice lunch together. Medical Mutual has taken it a step further by providing lunch from restaurants they work with. In many cases, they provide a meal from Metro45, a Social Enterprise of Lutheran Metropolitan Ministry that provides life-changing services to those most in need, through feeding the homeless and offering culinary training to the hurting and forgotten. Medical Mutual chose to give back, even during lunch.
The ServicePLUS Model
Once lunch concludes, a BVU staff member facilitates the ServicePLUS portion of the day. This is our chance to debrief with the group and see and hear what they learned, how they felt, and what a difference this day made for them. The stories shared at each session prove that volunteering doesn't only make a difference for nonprofits, but for businesses as well. People learn more about the work being done in our community, the awesome people behind the scenes that make it happen, they learn new and different ways to be connected and to continue helping and have the chance to meet and mingle with their coworkers in the process.
And, most importantly, volunteers leave with the confidence and skills necessary to continue making a difference.
Browse Volunteer Photos
It was a wonderful opportunity to meet and work with others from my company to accomplish a task for the community. Really enjoyed all aspects.
Event was well run and I have a good time volunteering and meeting some of my coworkers I normally would not have much involvement with.
Really great experience, learned more about native and invasive plant species, will pass this information on!
I have a great appreciation for Laura's Home and all that they do to provide a safe place for women and children in need. I was happy to be a part of the Medical Mutual team who volunteered for the day.