by Heather Englander, Director, Community and Business Engagement, Business Volunteers Unlimited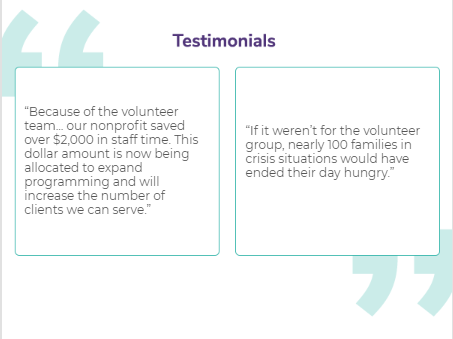 Want to make this kind of impact? Follow these steps for a successful Day of Service that is good for both your team and the organization you are serving.
Start with the need.
The first question you should ask when you call or email a nonprofit is, "How can we help?" After listening, you may realize that the makeup of your group can and should look differently. Keep coming back to this question throughout the process to gut check that you're in the right place at the right time. While you may set out to do a 75 person one-day event, the organization may need five people once a week for four months. Fit your group into the organization's needs.
Set clear expectations for the organization and your experience.
Ask: "What are your expectations for our group? What can we bring?" Also, do not be afraid to let the organization know that you have certain boxes that you would like to check. Questions like "Will there be access to water or should we bring our own?" and "Can someone from your organization give us a tour before or after the volunteer project?" make sure that you get what you need too.
Give it time.
If you have a long laundry list of requirements (i.e. specific date, time, # of people), make sure you give your nonprofit partner plenty of time to plan a volunteer activity. Remember, the organization does need your help. Given time and human resource constraints, volunteer managers usually wear many hats and extra time is needed for planning custom projects. If you don't have time and need something right away, choose one of their existing volunteer needs (but be aware that it might not fit YOUR list of date, time, or # of people).
Commitment
A volunteer project is truly a partnership. Before you make the call to the organization, make sure the key stakeholders are on-board. If you sign up to send 12 people, send 12 people. (Well 11 if one gets sick.) If you commit to May 12th, don't call on the 10th and say you need to cancel because you got too busy with work priorities. Nonprofits are on a shoestring in terms of money and human resources and planning volunteer activities takes time.
Take a 360 approach.
So you've done the leg work to find an organization that unites and bonds your employees. Phew! But maybe volunteering doesn't fit your and the organization's needs at the moment. There are other impactful ways your group can support a worthy cause.
Make a financial contribution.
Donate supplies or make a gift-in-kind.
Spread the word and mission of the organization.
Team projects provide businesses the opportunity to strengthen the community they live in work in all while engaging employees and boosting morale.