Annual Gallup Poll Results Reveal Employee Engagement Remains Stagnant
Employee engagement has certainly been a hot topic as of late. And, for good reason. As businesses and organizations look for new ways to do good and do well, focusing on creating an engaged and inspired workforce has proven to have a number of positive benefits. From better productivity and increased retention to a happy and healthy staff, research suggests high levels of employee engagement are mutually beneficial to both the employee and the company itself.
Yet, despite the increased focus, and despite the suggested benefits, recent Gallup Employee Engagement Survey Reports reveal that employee engagement has barely budged over the last 16 years. And perhaps more alarmingly, less than one-third of the employees surveyed reported as being engaged in their job and their workplace.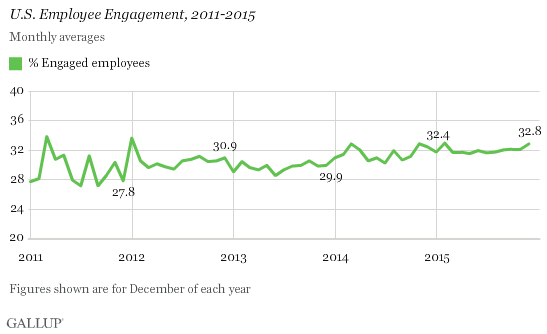 Why the Disparity?
While the U.S Employee Engagement Rate of 32% is well above the Worldwide Average of 13%, this stagnating growth line has left some to wonder whether employee engagement has reached an impasse?
Gallup suggests that one of the biggest reasons for this stagnation may lie in the fact that employers are too often focused on the wrong engagement strategies. According to Gallup, "Companies also fall into a common trap of mistaking their survey for an employee engagement strategy." The results of these surveys are then passed on to managers or project leaders, who are given the task of tackling employee engagement head-on. While this is certainly a well-intended approach, the fact of the matter is that these efforts are often not enough to inspire the type of company-wide change that is needed for a transformational change to take place. .
The result, as noted by Gallup, is that " these companies make false promises to employees, pledging change through intensive communication campaigns but providing little actual follow-through."
Employee Engagement is More Than a Survey
For meaningful engagement to take root at your organization, the strategy must be supported from all sides. More than just a one-off initiative, truly transformational employee engagement is the result of a company-wide vision that resonates deep within the workforce, customers and even the community it serves.