POSTPONED – Technology for Today's Nonprofit Leaders
May 19, 2020 @ 9:00 am

-

12:00 pm

$25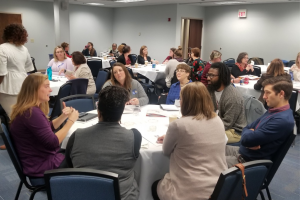 BVU and the Akron Community Foundation partner to bring two nationally-recognized nonprofit thought leaders to share how your organization can embrace technology and equip yourself with the knowledge and resources you need to continue to grow and thrive.
Presentations include:
The Technology Leadership Imperative: Digital skillsets are essential to the success of nonprofits and the people who lead them. Drawing on Idealware's research, we will explore why technology leadership—and its companions, digital readiness, and technical literacy—are critical for your organization's success. We will also look at how technology is changing how we work, the advantages it provides, what kinds of digital skills nonprofit leaders need, and how they can acquire them.
Data Visualization: Data drives funding, programs, services, and community prosperity. We will explore the basics of using data analysis tools to produce useful information for your organization. We will lay the groundwork with tips on data tracking systems and capturing meaningful data points (garbage in – garbage out). We will provide examples of interactive reports and explain the technology behind the scenes.
Presenters:
Karen Graham, Director of Education and Outreach, Tech Impact
Karen leads the Idealware team of researchers, presenters, and writers who create technology information resources designed to help nonprofit leaders put their vision into action. Karen is a sought-after speaker, trainer, writer, and consultant with expertise in technology leadership and innovation, nonprofit software, and digital strategy.
Linda Widdop, Director of Client Solutions, Tech Impact
Linda manages all aspects of client relations for Tech Impact, including educating nonprofits about technology solutions. Linda works with local, regional, and national partners to provide the nonprofit community with increased knowledge of technology through speaking engagements.
Registration: This event will be rescheduled for a later date. Please check back to register at a later time.
Registration Rate: $25