By Heather Englander, BVU's Director of Business & Community Engagement 
BVU celebrated its 13th annual Summer of Service with a triad of volunteer opportunities. Sponsored by MIM Software and the Northeast Ohio Regional Sewer District, these events engaged volunteers from BVU's business members to come together for a day of education, networking, and service.  
What made this year so special? 
Along with the community, the volunteer projects celebrated a #RiverReborn. Fifty years ago, a fire on the Cuyahoga River gained national attention and sparked (pun intended) real change in our country's environmental regulations. This anniversary marks the progress and partnerships that got us this far but also highlights the work that still needs to be done. With our mission to engage businesses to strengthen the community, BVU felt it was important to join the Cuyahoga50 dialogue by hosting three events that would both educate volunteers on the state of our water systems and engage them in direct service to keep them clean. 
BVU kicked off the June Anniversary Week with a trio of beach cleanups at Edgewater, Sims Park, and Rocky River Park. All volunteers met for lunch at NEORSD's Southerly Wastewater Treatment Plant to network and learn more about the state of our waterways from the Cleveland Water Alliance's Bryan Stubbs. Then, with their brains and bellies full, the group set off to their assigned projects. Beach cleanups with Alliance for the Great Lakes is more than just picking up trash: volunteers diligently record each item collected on a reporting form which is then submitted to the Alliance to provide real-time data for their advocacy work.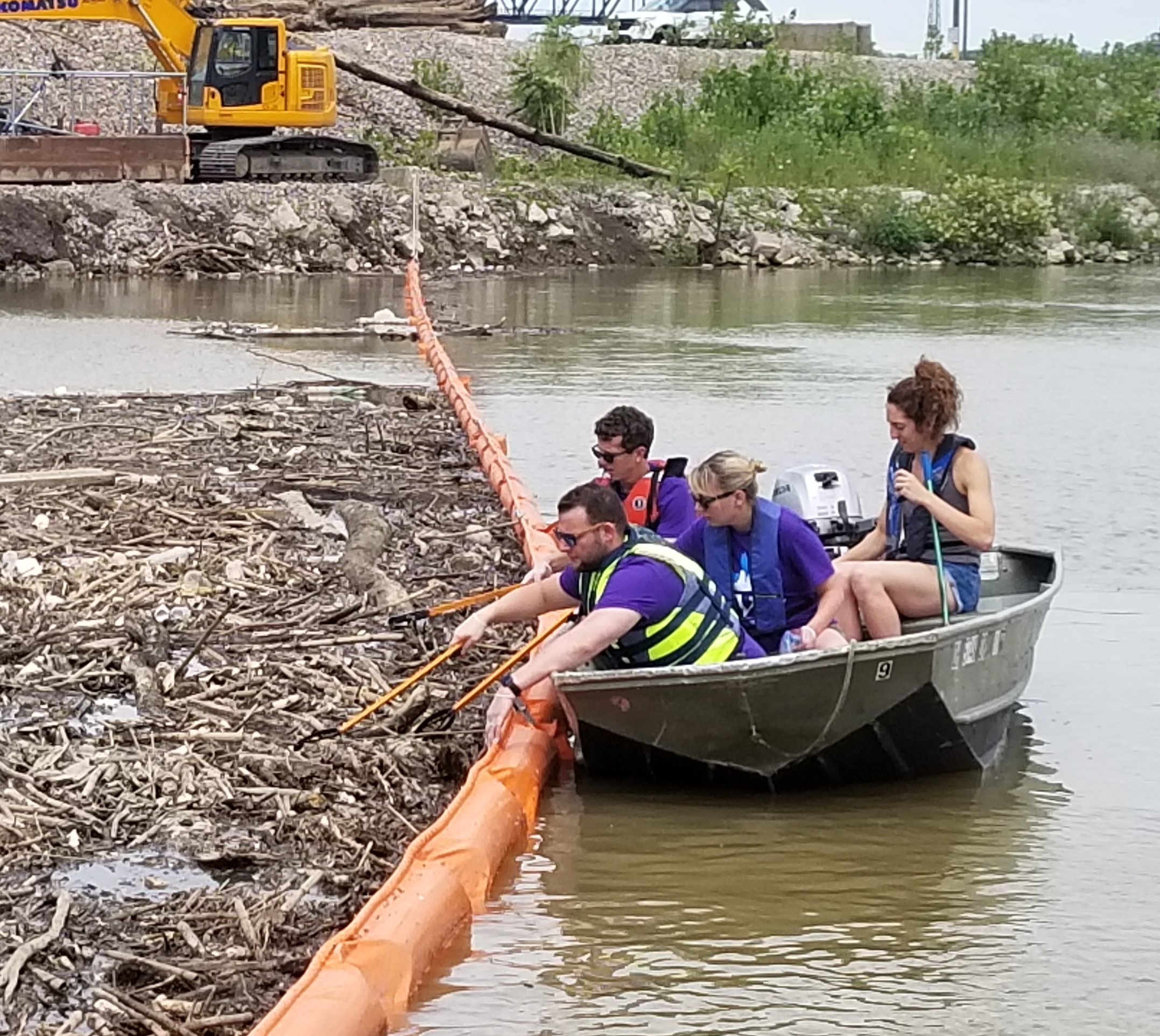 July's project was a unique collaboration with the Cleveland Rowing Foundation to clean-up our famous Cuyahoga River. Surrounded by brightly colored rowing shells and oars, the volunteers heard from Kirk Lang, Cleveland Rowing Foundation's Executive Director, and Linda Sternheimer from the Port of Cleveland. Although many were familiar with the 50-year-old fire, it was a great opportunity to learn about the current state of our river and what still needs to be done to make it a healthy, thriving water way for everyone. Armed with nets, grabbers, trash bags, and gloves, the group then split up into small crews and set out in the motorized launches used by the Rowing Foundation's coaches. They returned two hours later with over 300 pounds of trash and the knowledge that although the job was not done, they had made a difference.  
Wanting to show the relationship between all our waterways, our August event focused on the numerous watershed areas throughout the region. Lunch at the Cleveland Metropark's Canalway Center included a presentation from the Cuyahoga Soil & Water Conservation District's Elizabeth Hiser. Then volunteers departed for their service projects which included two sites with the West Creek Conservancy, the Cleveland Metroparks, Euclid Creek Watershed, and the Doan Brook Watershed Partnership.  
This year's Summer of Service was about more than just volunteerism. It was about education and collaboration. 143 volunteers from 14 of our member companies at 9 different sites. It truly takes a village to make lasting, meaningful, change, and BVU is proud to be the convener of both people and nonprofit agencies in our quest to strengthen the Northeast Ohio Community.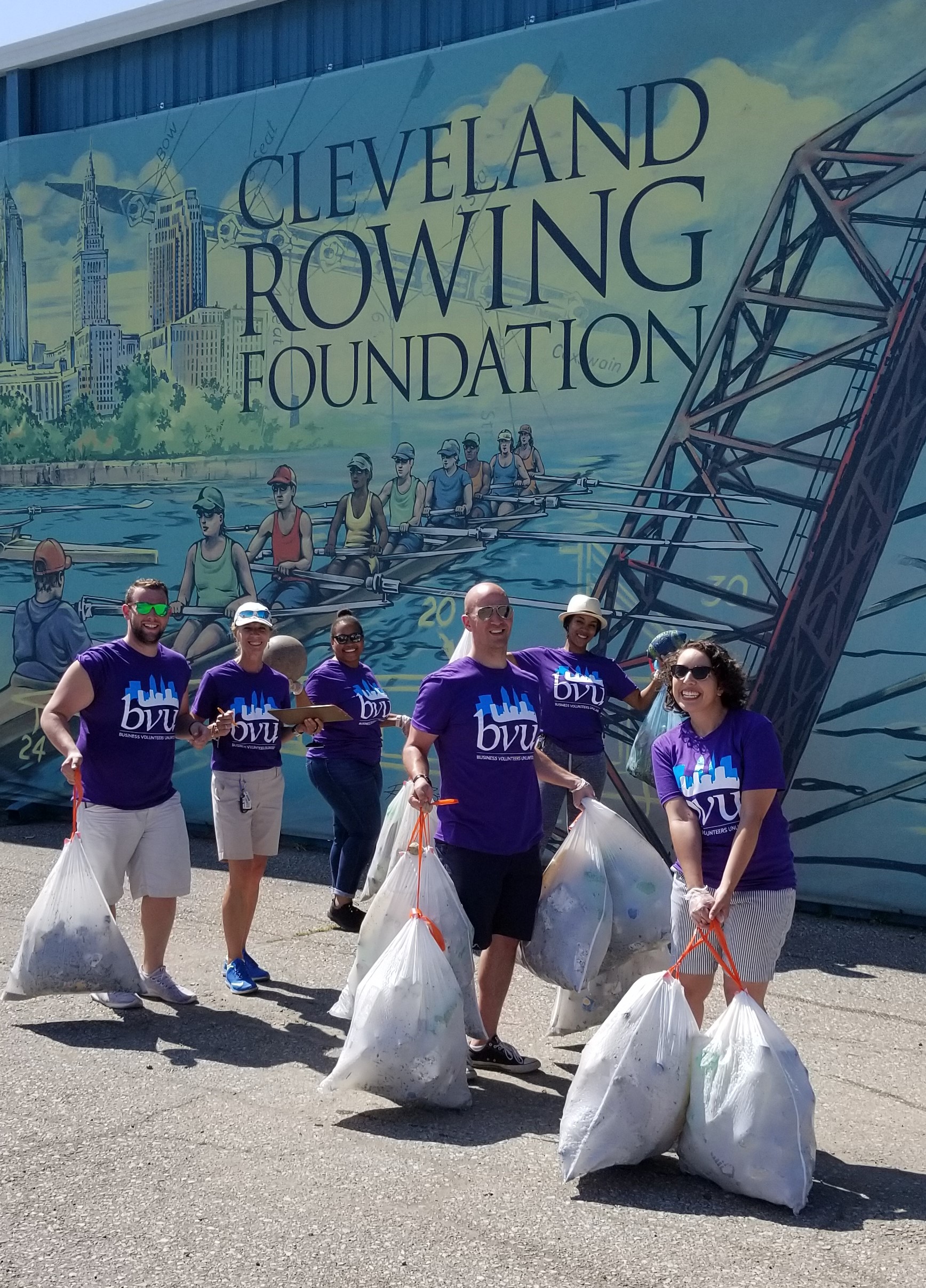 Although the summer is over and our thoughts turn more toward the impending ice and snow, you can still continue the celebration so that the next 50 years bring about even more change. Be a part of the progress by 
"You must be the change you want to see in the world." –paraphrase of Mahatma Gandhi